When a website links to another website, there are two ways the website can be linked. The first way being a dofollow link, and the second way being a nofollow link. Although both types of links achieve the same goal of linking from the origin site to the destination site, they tell the search engine two different things.
Let's discuss the differences between, and the use cases for dofollow and nofollow backlinks.
What is a Dofollow Backlink?
A dofollow link is a link that helps in terms of SEO by passing the authority of the origin site to the destination site. This passing of authority is called, "link juice." Acquiring dofollow backlinks will help improve a website's domain authority, or domain rating, which in turn, helps to improve keyword ranking.
By default, links are dofollow, so there is no need for rel="dofollow" when linking to a website.
What is a Nofollow Backlink?
A nofollow link, or backlink, is a link which does not pass authority on to the website it is linking to. These links do not help in terms of SEO.
To make a link nofollow, add rel="nofollow" to the code when linking to a website.
When Should a Nofollow Backlink Be Used?
A nofollow backlink should be used when you do not want to pass link juice to, or endorse the linked website.
For example, nofollow backlinks were first recognized by search engines in 2005 when comment spam became an issue. Webmasters were able to make links in the comment fields nofollow so the website wouldn't benefit from spamming comments with links.
Other situations where you might want to use a nofollow link would be for sponsored links, affiliate links, or user-generated content.
Are Nofollow Links Bad?
No! Acquiring nofollow links is not a bad thing. Although you do not get the full SEO benefits of a dofollow link, nofollow links can generate traffic to your website, as well as diversify your backlink portfolio. A natural backlink profile consists of a distribution of both dofollow and nofollow backlinks.
How to Tell if a Link is Dofollow?
To check if a link is dofollow or nofollow, you can simply inspect the link in the browser and check the HTML code.
To do this, right-click on the link in the browser and select "Inspect". This will bring up the HTML code associated with that link. If you see rel="nofollow", then the link is a nofollow link. If you do not see rel="nofollow", then the link is a dofollow link.
In addition to using the inspect tool, you can use a backlink analysis tool like Ahrefs or Moz.
To Sum It All Up
Dofollow backlinks and nofollow backlinks are two ways of identifying a link and telling Google how to associate the website you are linking to your website. Dofollow links are a way to pass on authority to a website, while a nofollow link does not pass on link juice.
If you have a question that wasn't answered above, or would like to speak to our SEO team, feel free to reach out by filling out a free consultation form.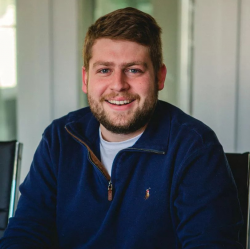 Latest posts by Ricky Weiss
(see all)